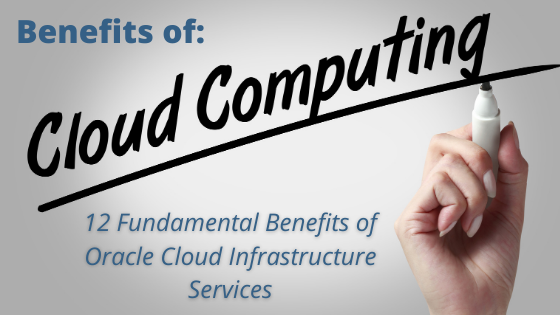 Gartner predicts that the Cloud adoption trend will continue through 2021, by which time most organizations are expected to have either '
Cloud-first
' or '
Cloud-only
' policies. Factors that largely influence this trend generate quantifiable improvements for most large businesses in terms of cloud-based storage, backup, and disaster recovery solutions.
Oracle has revolutionized the way organizations conduct business with industry-leading engineered systems and seamlessly integrated solutions that can be deployed on the Cloud, on-premise, or both. Oracle Cloud services are especially proven to simplify IT, minimize operating costs, expedite time to market, enhance collaboration, and increase operational efficiency. The Cloud adoption strategy encompasses power-packed capabilities of hosting your business systems, custom applications, and infrastructure on remote servers whilst protecting your business from data loss.
Essentially, Oracle Cloud Services offer the following fundamental benefits:
Enhanced business value

with the PaaS platform to ensure optimal performance. Our gamut of comprehensive Cloud solutions ensure reduced capital investment in Datacenter or in-house, simplified integration with your existing infrastructure, and focus on expansive innovation and growth.

Optimizes the Platform as a service (PaaS)

which is essentially a Cloud computing model that delivers hardware and software required for application development, as a service. Power-packed with rich resources such as development tools, libraries, and database management systems, PaaS completely innovates the IT functional area of your enterprise by simulating this infrastructure in the Cloud.

Drives Granular cost control

with the '

pay-as-you-use'

subscription model that promotes autonomy through self-service sign-up, management,

and monitoring services. It is perfect for short-term ad-hoc projects without burdening your existing infrastructure.
'State-of-the-art' architecture

that delivers world-class security and maintenance with a high level of flexibility and availability. Reduces the life cycle of integration and testing to allow expansion across multiple business areas.

Self-defined upgrade cadence

that largely facilitates customers to design an upgrade timetable, therefore, allowing in business operations.

Increased reliability

with end-end implementation support that largely minimizes operational, integration, and testing costs and effort, and expediting time to market.

Accelerated implementation

that creates streamlined processes to help businesses maintain more focus on revenue-generating engagement.

Increased flexibility and scalability with server loads

that reduces dependency on in-house hardware with simplified implementation and increased accessibility.

Enhanced application agility

in terms of availability of engineering resources. Agile businesses have an overall deep impact on business efficiency with the Cloud due to continued resource availability and internal IT optimization.

Promotes Cloud-based collaboration

that largely expedites your time-to-market and promotes better customer service and engagement. Cloud adoption also ensures higher participation and enhanced organizational capabilities.

Ensured business continuity

with exemplary Cloud-based

disaster recovery a

nd backup solutions available for businesses of all sizes.

Seamless

flow of business workflow across all applications are intact with a Cloud platform such as Oracle with industry-leading solutions such as Oracle Integration Cloud that enables streamlined process flow and uninterrupted business transactions.
To know more about lifting and shifting your workloads to Oracle Cloud visit our website or schedule a meeting with an Astute team member.