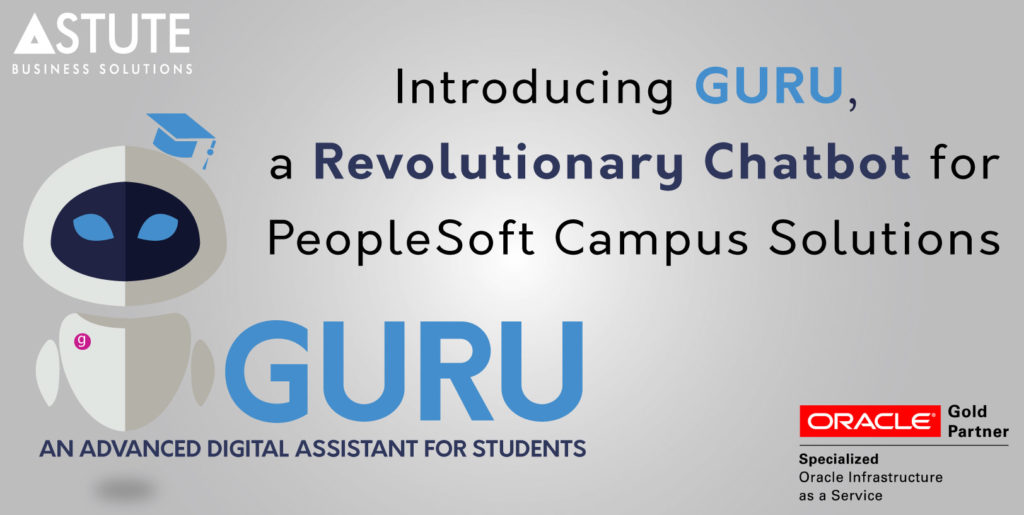 GURU the Student Chatbot
Astute Business Solutions introduces Guru, a state-of-the-art Student Chatbot for the PeopleSoft Campus Solutions application. An innovative way for students to interact online with campus data and information Guru revolutionizes the way users ask questions and receive answers.
Student Solution
The right solution for students, faculty and administrative users, Guru is designed to keep up with the evolution of personal technology and deliver a modern conversational bot that integrates data from multiple sources. Also known as a virtual or digital assistant, Guru accesses secure student-related information and provides an intelligent, contextual response at their fingertips.
What role can Guru play in modernizing universities, schools, and colleges?
Guru :
It is available 24 x 7 anytime, anywhere.

Improves customer service through precise interactive communications.

Saves time and money by reducing internal headcount.

Enhances the user experience via a unified conversational UI using multiple sources.

Automates routine tasks by automatically providing FAQs, links, procedures, and policies (can be used on any device; desktop, laptop, phone, or tablet).

Integrates with multiple Campus data sources including PeopleSoft Campus Solutions, Housing, Library, Transcripts, Admissions, Applications, and FAQs.

Increases student enrollment by enhancing the user experience.
Description: a simulation of the seamless interaction between a student and Guru, the Chatbot is designed to be deployed on the PeopleSoft Campus Solutions application with data archived from the PeopleSoft system. Oracle's best-of-the-Cloud technologies are used to design, build, and integrate this solution with PeopleSoft.
To learn more about Guru watch the video.
Note: Guru is not limited to PeopleSoft systems and can be deployed on Banner or other Campus Solution applications.