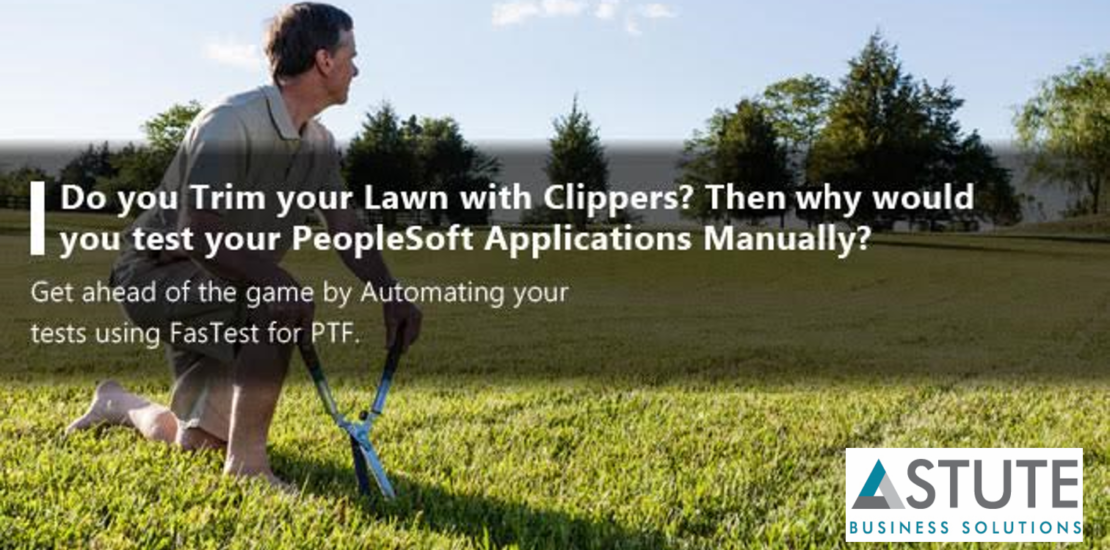 Accelerate PeopleSoft Testing with FasTest and PeopleSoft Test Framework
PeopleSoft Test Automation with FasTest
" The entire enterprise software business is slowly shifting from expensive cyclical upgrades to a more streamlined incremental change model. PeopleSoft has now adopted this change by moving to a Continuous Delivery model with Selective Adoption. "

- Arvind Rajan (CEO, CTO Astute Business Solutions)
What is Selective Adoption?
The Selective Adoption delivery model has revolutionized the PeopleSoft v 9.2 delivery lifecycle and the PeopleSoft

Update Manager (PUM). Essentially being applicable to both maintenance and new enhancements, Selective Adoption allows you to selectively apply PeopleSoft fixes and new features on a 'need' basis. A complete PeopleSoft system upgrade is no longer necessary once you are on v 9.2, therefore, redefining agility for your PeopleSoft system.
Why Selective Adoption?
The pre-PeopleSoft 9.2 versions were primarily maintenance-intensive, with critical issues including application updates being handled by applying a host of patches, bundles, and maintenance packs. Within a continuous delivery

model, Selective Adoption especially promotes customer-driven cadence where customers are able to select and drive changes based on business requirement whilst preserving strategic customizations and change management strategy. The Selective Adoption strategy for PeopleSoft has largely managed to create a seamless and holistic end-to-end test automation experience for the end user.
Business Drivers for Test Automation
a) Test Often – Test More
The PeopleSoft Selective Adoption comes with weekly changes and enhancements and hence paves way for more testing – 'test a lot and test more often'. With an inbuilt framework facilitating the creation of test scripts within the application database, users can record test procedures and repeatedly execute them after an application upgrade or patch to corroborate the functioning of environment workflow.
b) Business Driver changes
Essentially, the IT needs to adopt new paradigms and methodologies for enabling new changes and enhancements with quicker turnaround time. Our rapid deployment methodologies and pre-built tools for PeopleSoft are proven to deliver business value faster. With Oracle releasing new PeopleSoft images with fixes and enhancements every 10 to 12 weeks, the onus of evaluating and validating these new features and is on the IT. Once reviewed, prioritized, and highlighted for maximum business impacts, a regularly scheduled cycle is essential for applying these patches to your environments. This requires IT support to enable organizations to perform regular testing before promoting the enhancements to the production environments.
c) Quicker Deployments
With a powerful single-click execution capability, response time is drastically cut down to expedite PeopleSoft deployment – with tests and releases in days/weeks as opposed to months. Changes are now expected much faster and more often, and it is imperative for a business enterprise to use the right tools to stay on top of these changes.
d) Higher Quality
Essentially, automation testing methodologies come with a significantly broader scope of overall test coverage and accuracy, and therefore, a direct impact on application quality. The very redundant nature of automation allows assessment of program behavior with a dedicated focus on constant execution of all areas of testing. Increased regression and lower number of bugs are critical for overall software quality and for expediting software delivery.
" FasTest being a tightly integrated tool with PeopleTools and PTF, it just works as an extension of PeopleSoft application and offers you capabilities that PeopleSoft offers today. It can integrate work with tools like Phire, HP ALM, IE to enable with seamless user experience to inter-operate with various other tools and provide you with flexibility use other tools as needed while you operate out of FasTest & PTF. "
-Sudhir Mehandru- VP. Sales and Marketing
Why PTF + FasTest is imperative for these drivers?
Emerging business standards with PeopleSoft v9.2 has grown to revolutionize the release cycle for managing application growth and utilization. Automated testing with PTF offers a plethora of potential solutions for testing
and re-testing using an enormous range of data values, web browsers, or operating systems. With Selective Adoption for organizations being critical to keeping PeopleSoft current and for driving agility in automated testing, the PeopleSoft Test Framework (PTF) houses many complex workflows. This new, best-in-class breakthrough testing methodology is now bundled with PeopleSoft v 9.2 and drives tremendous business value for your enterprise.
How PTF FasTest delivers these outcomes effectively?
PTF is typically a business-driven automation framework solution based on the Selective Adoption landscape with significant key benefits. The customization capability of PTF allows seamless integration with the existing processes and practices of maintaining and managing PeopleSoft. Businesses are now leveraging the value that PTF automation processes offer in terms of increasing software efficiency by largely reducing the enterprise software development lifecycle curve. FasTesT is a purpose-built bolt tool designed to solve test automation challenges for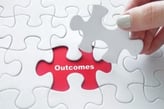 PeopleSoft applications while delivering significant cost savings, guaranteed ROI and reduced TCO to its customers. FASTEST enables complete automation of functional regression testing using PTF and built as a continuous testing platform enabling Continuous Development, Continuous Integration (CI), Continuous Testing, and Continuous Deployment (CD) for global delivery teams. Power packed with modern tools and methodologies, FASTEST simplifies functional testing processes across all levels of enterprise architecture, customized BI, and data warehouses.
FasTest effectively eliminates the challenges of manual testing in terms of the extensive effort for repetitive testing, undocumented tests, and additional variable costs along with an already high fixed cost. Also, FasTest drastically reduces the testing capital costs by almost 80% as opposed to manual or PTF-based testing with the following key takeaways:
-Dashboard Reports
-Batch Automation
-Data Mining
-Defect Tracking
-Requirement Management
-Test Management
The power-packed synthesis of PTF and FasTest brings tremendous business value to enterprises with cutting-edge analytics, dashboards, and reports for defect tracking to help coordinate, manage, and monitor end-end testing across the entire application chain. Addressing the challenges of rapidly testing complex, integrated applications within a small timeframe FasTest is the answer to forward-thinking automated testing methodologies.
We regularly meet with customers to have a free PTF consultation: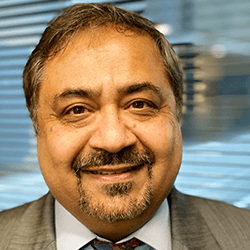 Sudhir Mehandru is Co-founder and CFO of Astute Business Solutions. Sudhir has over 19 years of experience in IT Outsourcing including ERPs, Application Hosting, and Implementation of complex Financial, Accounting, Manufacturing, Supply Chain, and CRM systems.
Tags
Related Posts
Subscribe Our Newsletter
Gain access to exclusive insights, technical know-how and crucial knowledge from Astute experts.