Overview
PeopleSoft Cloud Manager helps you run PeopleSoft Applications on Oracle Cloud. A free PeopleSoft application PeopleSoft Cloud Manager is hosted and run on Oracle Cloud. To utilize it, customers must have a subscription to Oracle Cloud. It's delivered through the Oracle Marketplace and has the same familiar look and feel of Fluid UI. It has changed the way applications are deployed and where they are run. This tool gives customers the ability to automate the process of the installation and deployment of PeopleSoft on Oracle Cloud. PeopleSoft Cloud Manager was built upon basic functionality that already existed within the Deployment Framework.
Benefits of PeopleSoft Manager on Oracle Cloud
There are many benefits to running PeopleSoft Manager on Oracle Cloud such as:
Automating the provisioning of applications in the Cloud
Utilizing PUM Images available from the Oracle Marketplace
Managing applications with higher efficiency
Applying PeopleTools upgrades and patches with one-click
Automated Lifecycle Management with Cloud Manager
There are four main objectives within PeopleSoft Cloud Manager where customers can execute Cloud computing, life cycle management, migration to Oracle Cloud, and self-service provisioning.
Cloud Computing: With Cloud Computing in PeopleSoft Cloud Manager, you'll have elastic scaling based on demand. Your technology platform will always be current and patched and you''ll also have access to industry-leading, secured environments.

Lifecycle Management: Lifecycle Management with PeopleSoft Cloud Manager provides you with subscription to update release channels. You'll also have complete environment management and automated application patching.

Migration to Oracle Cloud: With PeopleSoft Cloud Manager, Lift and Shift is possible for existing environments to Oracle Cloud. This migration will backup and restore your configurations, data, and customizations to Oracle Cloud. If these processes are cloned, additional environments can be created.

Self-Service Provisioning: Self-service provisioning with PeopleSoft Cloud Manager will provide on-demand environments for specific cases. This template-driven provisioning enables business users access to on-demand environments as needed and provides unique topology definitions.
One-Click PeopleTools 8.58 Upgrade
Using this new methodology of upgrading the PeopleTools eliminates the hassles involved in manually upgrading and is the easiest and fastest way to get PeopleTools upgraded to the latest version.
Below are the step-by-step guidelines for walking through a complete upgrade.
Step 1. Initiate the upgrade
After the environment is provisioned, (as shown below) navigate to Environment Details | Upgrade PeopleTools. On the right pane, you'll have an option to select the PeopleTools 8.58 version that you have downloaded. Select the PeopleTools version that you want to evaluate.
Click Upgrade to begin the upgrade process.
Navigate to Environment details 🡪 Upgrade PeopleTools
Select the PeopleTools version and click on Upgrade

a. Click on YES to continue with the Upgrade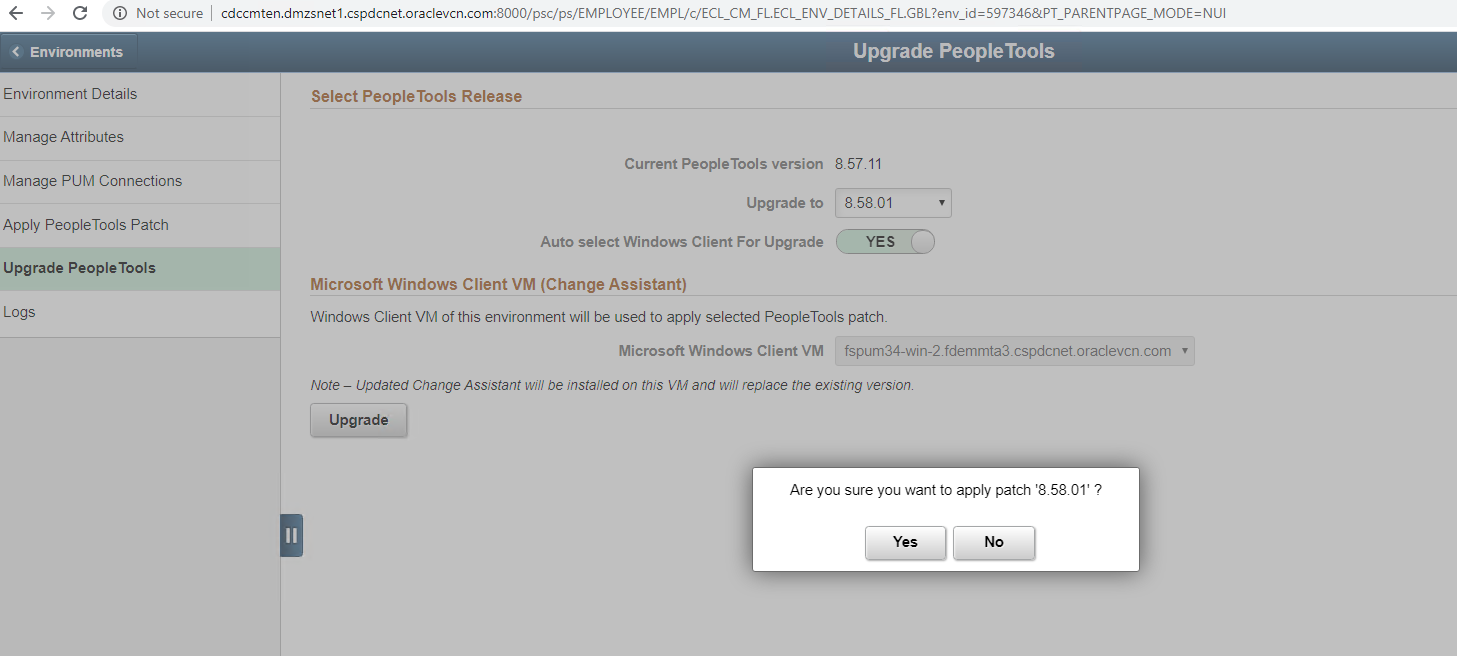 Step 2. Monitor the progress of the PeopleTools Upgrade


a. View Status from the Home Page.

b. View Status from Details Page.

c. Read the upgrade log on the LOGS Page.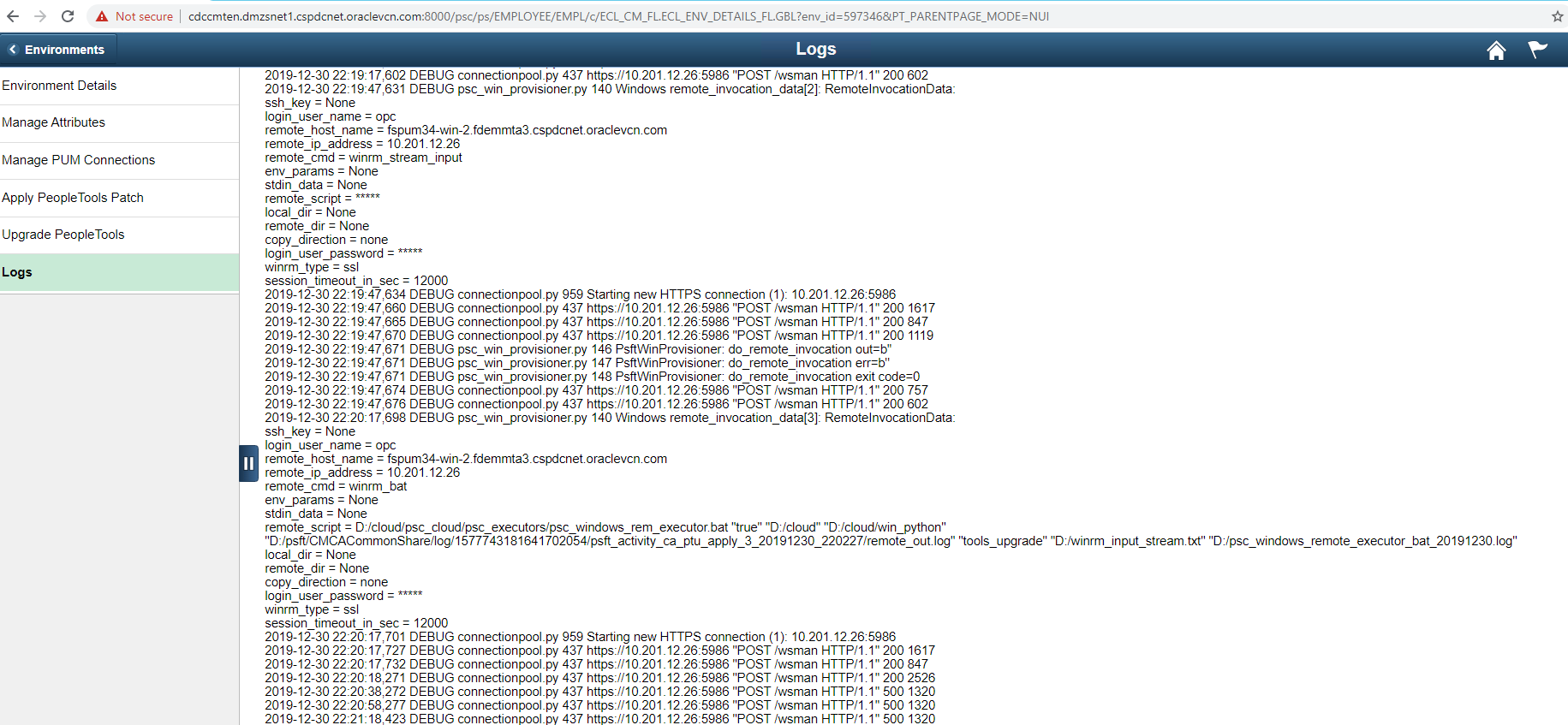 d. Status Update "In Progress". You'll be able to see the job details and the steps running on the same page. Click on the 'In progress' status link to view the upgrade job status.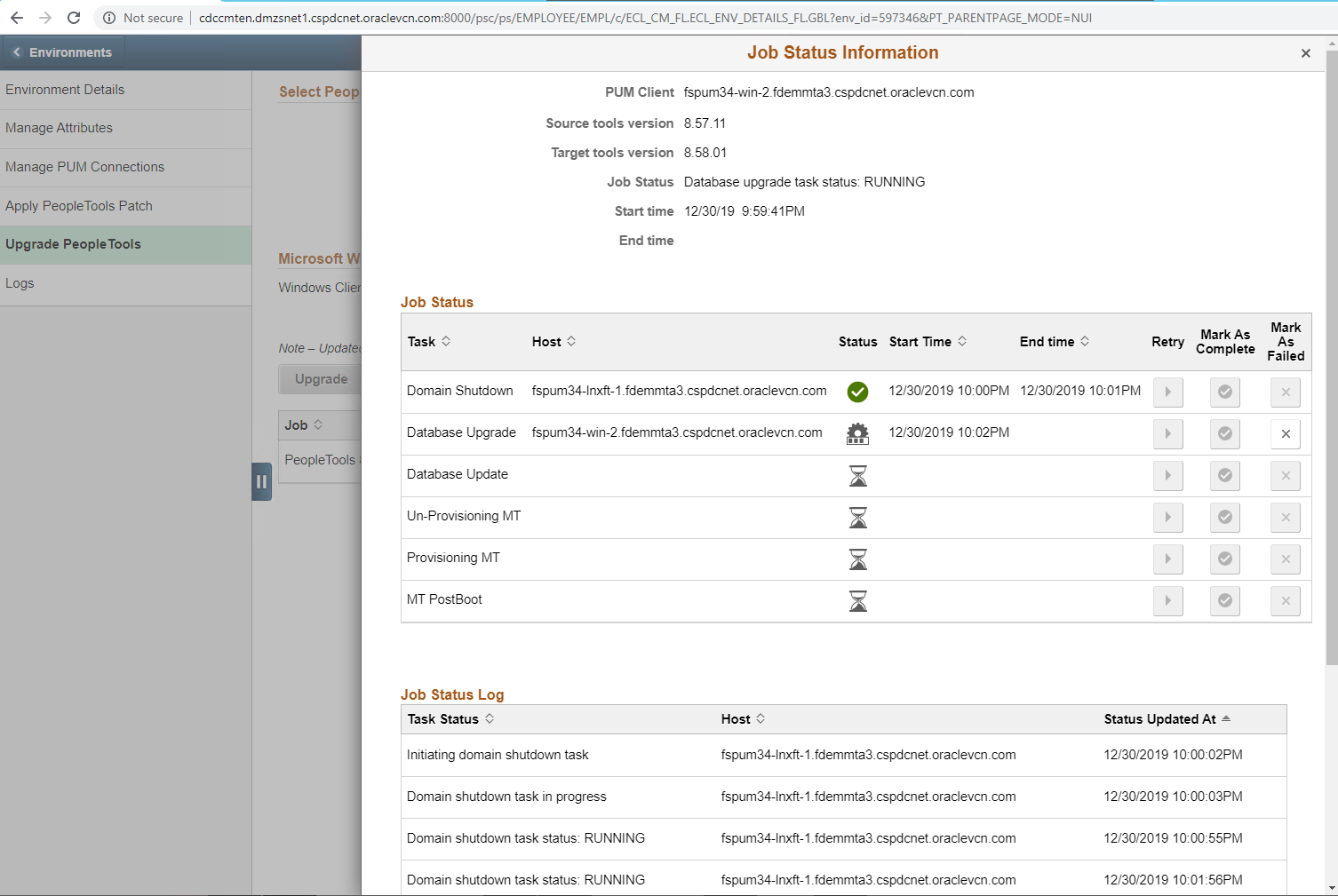 e. Check to see that the Status is now "Completed".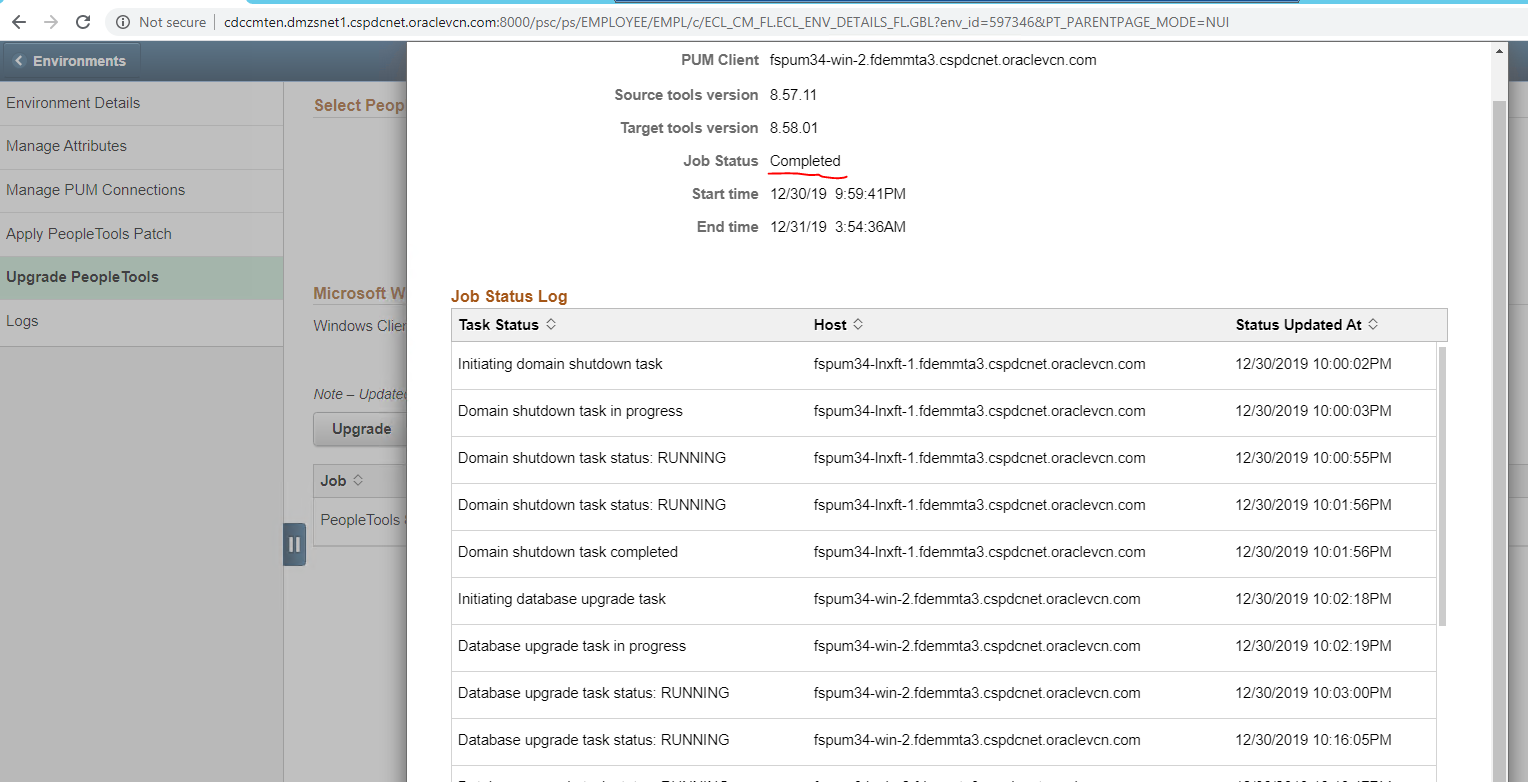 The PeopleTools upgrade is now complete. Log on to the upgraded environment PIA to evaluate the new features in PeopleTools 8.58.

Minimum Requirements for PeopleSoft Cloud Manager
The minimum requirements are:
Apps version 9.2

PeopleTools version 8.55.12.

For provisioning COBOL and Elasticsearch the minimum tools version is 8.55.13

Shape of Cloud Manager is oc1m

File server capacity is 250 GB
Conclusion
In a nutshell, the benefits of using the Cloud Manager enables the following time and cost saving options:
Provision PeopleSoft environments on Oracle Compute Cloud and Oracle Database Cloud Services

Orchestrated deployment of PeopleSoft 9.2 Applications on Oracle Cloud

Subscription model to auto download application PIs and PRPs

Automated migration of on-premise environment to Oracle Cloud

Create repeatable deployment templates

Self service provisioning of PeopleSoft environments

Fully automated deployment which is immune to manual errors and process delays

Manage multiple environments from a single page

Perform on-demand health checks on environments

Enable application life-cycle management in Oracle Cloud

Clone environments by creating templates from running instances

Access to log files through UI for easy troubleshooting
Want to know more about PeopleSoft Cloud Manager or other Cloud Solutions? Schedule a meeting with an Astute team member.