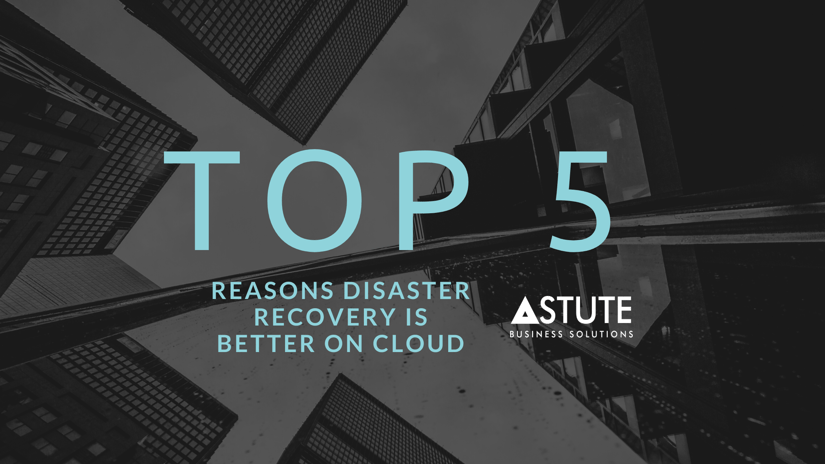 Overview:
Data is the most valuable asset for any organization today. Data includes Intellectual property, financial transactions, PII (Personally Identifiable Information), and CRM (Customer Relationship Management) data among others. Organizations today and in the future will rely more on data than any other asset to gain an edge on their competition, to create business insights, and to compete. We have all heard horror stories where a single mistake or a lost or incomplete backup led to costly business disasters and have set businesses back days, weeks or months, from which they struggle to recover. Hence, protecting an organization's data is the paramount responsibility of customers and their IT and Business leaders.
Planning for the unknown can be difficult and implementing and maintaining a Disaster Recovery has been challenging in the past. Traditional approaches such as backup to disk, archiving to tape, and setting up failover systems in secondary data centers are riddled with faults, are expensive and are almost impossible to maintain and keep current. With the fast pace of innovation and lowering the cost of public cloud infrastructure, Customers are increasingly looking to Cloud for Disaster Recovery solutions. Furthermore, Customers are looking for managed services that leave the implementation, testing and maintenance of Disaster Recovery solutions to expert partners who specialize in this area and are much better at keeping up with the latest technical innovations than their internal IT teams will ever be.
Cloud Disaster Recovery (DR) Solutions
5. Cloud DR is Resilient and Reliable
While customers can spend a lot of money in modernizing their data centers with the latest in hardware technology with systems that are resistant to failures, they still won't be immune to hard disk or internet connection failures. The best on-premise hardware solution is only as good as its weakest link, of which there can be many and it can be costly for your organization to eliminate all such weak points. You can have one of the most well-crafted ships ever made, but if your crew can't see the iceberg just beyond your line of sight, then it doesn't matter upon impact.
Cloud-based Disaster Recovery, on the other hand, relies not only on the latest hardware technology but on hyper-scale and the ability to provide redundant solutions at a scale that can be leveraged by thousands of customers at once, hence being able to provide it at a very nominal unit cost for your organization. Public cloud infrastructure providers like Oracle have invested heavily in building and expanding a global network of regions and availability domains (roughly translated to data centers) that give any customer the scale, reliance, and fault tolerance they may need, from the simple to the most stringent of needs.
With Cloud Disaster Recovery, the overheads of deploying, maintaining, upgrading or refreshing hardware are entirely in the hands of the Cloud Provider and customers can focus only on consuming the As-A-Service model to implement their business continuity plans.
4. Cloud DR is Elastic
While traditional Disaster Recovery systems have been designed to be mirror images of production systems, Cloud offers customers choice. Customers can start with fractional copies of their on-premise production workloads and only pay for that fractional consumption for the majority of the time. In the event of a disaster, Cloud provides automation and tooling that enables you to scale up that fractional system to a full-sized system in a matter of minutes for small-scale systems and hours for large-scale systems.
Cloud further allows you to throttle the cost of these fractional footprints by only maintaining images of servers on Cloud storage that are refreshed using automated tools at a set frequency. You only incur minimal storage costs to store these images in the Cloud and pay for the full cost of the server only when you actually deploy an instance on Cloud using that image.
3. Cloud DR is Fast
In comparison to traditional on-premise Disaster Recovery solutions, Cloud is fast. Cloud Disaster Recovery is fast to deploy, manage, failover, failback and test because it can be completely automated. For example, a Disaster Recovery for up to 100 workloads (servers, virtual machines) on-premise can be deployed on Cloud in less than a week and be fully operational with scheduled backups, scheduled synchronization with on-premise and automated monitoring and testing solutions built-in. In comparison, a similar solution on-premise would take weeks if not months to implement at 5x to 10x the cost of the Cloud solution.
An important factor the Cloud Disaster Recovery influences with its speed are the RPO/RTO ratio. Cloud can offer up to the second recovery for a business that needs it with zero data loss, and at the same time, be flexible enough to offer Recovery Time Objective (RTO) of 4 hours and Recovery Process Objective (RPO) of 15 minutes for a fraction of the cost of an equivalent on-premise solution.
2. Cloud DR is Secure
Cloud Disaster Recovery solutions typically offer higher security than comparable on-premise solutions. Cloud tenants are isolated from one another and workloads within a tenant can also be isolated based on business needs. Compliance requirements regarding data encryption, cryptographic algorithms, and key management can be met with native solutions that all major providers include in their core services today. Security controls are easy to set up and use to segregate access and segregate operational responsibilities. Cloud provides visibility with log data and security analytics for auditing purposes. Customers have the choice of using cloud-native security solutions or bringing their own security assets to the cloud. Fault independent cloud data centers enable high availability and are resilient against attacks. Cloud provides pen-testing and vulnerability scanning along with third-party audits and certifications.
1. Cloud Disaster Recovery Can Save You Money
Traditional Disaster Recovery is expensive not only because of the costs to procure and set up physical servers at a secondary data center location but also because of the overhead of supporting, maintaining, and testing those systems. Cloud Disaster Recovery, on the other hand, is less expensive than a traditional disaster recovery center. From insanely low storage costs, to free network connectivity (VPN options), to being able to run fractional footprints of your on-premise workloads in the Cloud, that you can scale up to full capacity in the event of a true disaster, Cloud gives you a variety of options that on-premise data centers can never match.
Oracle Cloud Infrastructure and RackWare RMM for Disaster Recovery
Astute partners with RackWare Inc. to use the Rackware RMM platform that provides a flexible and all-encompassing solution for cloud migration and Disaster Recovery. RackWare helps customers of all sizes and industries take advantage of the agility promised by Oracle Cloud Infrastructure for a cost-effective and fully automated Disaster Recovery solution. Rackware's platform eliminates the complexity of protecting, moving, and managing large-scale applications, including critical business applications and their workloads into the Oracle Cloud. It is now possible for enterprise customers to forgo the upfront purchase of duplicate recovery hardware, the cost of setup, configuring, and maintaining that hardware by leveraging Oracle cloud infrastructure.
Rackware RMM Migration/DR platform is a non-intrusive Agentless Technology with pre- and post- Migration Configuration Capabilities that is easy to set up and configure for complicated enterprise environments/applications. Rackware RMM supports both Linux and Windows-based workloads for migration to the Oracle Cloud Infrastructure.
Rackware RMM value proposition for enterprises in the Oracle Cloud is as follows:
Non-disruptive / Live Captures -No agents installed, safe and secure replication of your production environments

Network and Application Discovery - Automatically discover network configurations and applications allowing you to reconfigure them in the OCI environment during migration

Universal DR Protection - RackWare support spans all physical and virtual confluences, even for complex environments with Large SQL Clusters, and Network Attached Storage

Seamless Failback - To physical and virtual environments, for simple Disaster Recovery drills

Cost Reduction - Orchestration engine for multiple policies of RPOs and RTOs based on tolerance to reduce costs with less expensive compute, network, and storage utilization.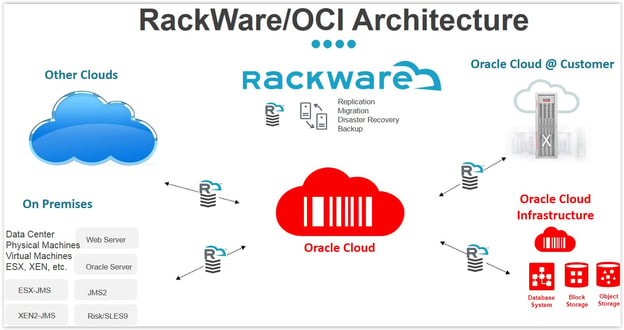 Oracle Cloud is a Generation 2 enterprise cloud that delivers powerful compute and networking performance and includes a comprehensive portfolio of infrastructure and platform cloud services. Built from the ground up to meet the needs of mission-critical applications, Oracle Cloud supports all legacy workloads while delivering modern cloud development tools, enabling enterprises to bring their past forward as they build their future. Our Generation 2 Cloud is the only one built to run Oracle Autonomous Database, the industry's first and only self-driving database. Oracle Cloud offers a comprehensive cloud computing portfolio, from application development and business analytics to data management, integration, security, artificial intelligence (AI), and blockchain.
Oracle Cloud Infrastructure is hosted in regions and availability domains. A region is a localized geographic area, and an availability domain is one or more data centers located within a region. A region is composed of three availability domains. Availability domains are isolated from each other, fault-tolerant, and very unlikely to fail simultaneously. Availability domains do not share infrastructures such as power or cooling, or the internal availability domain network. All the available domains in a region are connected to each other by a low latency, high bandwidth network, which makes it possible to provide highly available connectivity to the Internet and customer premises, and to build replicated systems in multiple availability domains for both high-availability and Disaster Recovery.
Astute Business Solutions is an Oracle Cloud Partner and an Oracle Cloud Managed Service Partner (MSP).

Conclusion
With Disaster Recovery becoming a business imperative, enterprises are focused on optimizing their strategies in order to reduce risk and reducing cost. The cloud has come to play an important role in Disaster Recovery, offering services that leverage global data centers and flexible storage tiering for cost-effective yet robust Disaster Recovery replication targets. Cloud Disaster Recovery is the solution for today and for the future all businesses, across all industries.
Are you ready to get started with Disaster Recovery on Oracle Cloud? Shedule a meeting with an Astute team member.