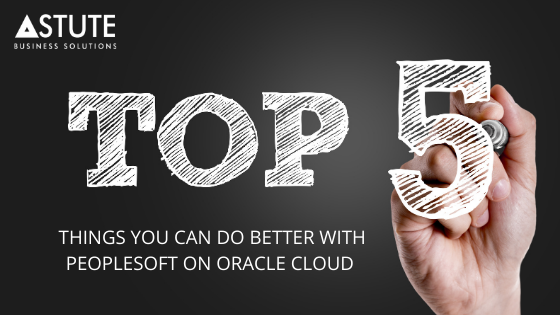 Oracle PeopleSoft customers are a committed bunch. In the years they have owned and used PeopleSoft applications, they have often taken the road less traveled, they have actively contributed to new product features, given direction to many others, and have built a strong user community by sharing their experience and knowledge with each other. While each customer's PeopleSoft implementation is unique, they have a lot in common when it comes to routine maintenance, patching, enhancing, extending and integrating applications. Maintenance tasks like backup and restore, refresh, and migration are often plagued with inconsistencies, lack of automation and problems with environment code, configuration, and security setup after maintenance tasks are performed.
Oracle Cloud Infrastructure as a Service (Iaas) and Platform as a Service (Paas) now offers PeopleSoft customers many attractive options to streamline maintenance activities while reducing administrative overheads, improving response times, reducing manual errors, automating pre and post maintenance tasks while providing on-demand capacity and performance. Lets take a look at five common PeopleSoft maintenance tasks that Oracle Cloud does better as compared to on-premise.
Time to Deploy
The time taken to deploy a new instance of PeopleSoft can vary from a few days to a few weeks and in some cases even months. Depending on the environment, infrastructure availability, resources, process, procedures and skillsets can detetermine the time to deploying a new instance implementation and could differ for each and every customer.
Use Oracle Cloud Marketplace pre-built images of PeopleSoft applications (currently available for V9.2 only) to instantly create new instances.

Store images of your own baseline code, configuration, data & security, and use that to instantly deploy a new PeopleSoft instance on Oracle Cloud.

Bonus: Click Select and Deploy additional instances based on your needs. Tear down or discard them as easily as you build them.
Backup and Restore
Backup and Restore is performed either with the help of a tool like RMAN or customized scripts or manually (worse case). Regardless, there has always been a challenge to generate reliable backups that can be used when the need arises. In addition, there are dependencies on disk space, offsite storage, and servers that further delay or complicate this basic necessity. Oracle Database Cloud Service (part of PaaS) makes it easier:
Subscribe to the Database Cloud Service or the Database Backup Cloud Service and with a few clicks, you can configure the instance for backup and it's complete.

No more concerns about storage availability for backups. With Storage Cloud (IaaS) fully integrated with Database Cloud, you are covered.

Bonus: Want to change the backup frequency or policy - there's no need to call your DBA team. Just log in to the Cloud portal and make the changes you need and you'll be all set.
Production Refresh
Each customer has their own schedule to refresh data from production down to non-production instances. Unless this is fully automated, customers could spend a significant amount of time, resources and money in performing this particular task. To take a point in time snapshot of the production, scrub it to make it non-production ready, restore and then perform a series of post refresh tasks to configure the non-production instance after bringing it up. Oracle Cloud makes it easier:
With a few clicks in the Cloud Portal, select your instance and create a snapshot of the entire instance. Take a quick coffee break and come back when the snapshot is ready. Use the snapshot to create a new Dev or Test instance, again with just a few clicks. Use DPK and PTF to run post refresh task to configure your instance.
Monitoring PeopleSoft
Oracle Cloud offers monitoring tools such as the Oracle Application Performance Monitoring Cloud Service and Oracle Management Cloud that can unify DevOps and ensure a healthy production and development ecosystem. With these tools, application monitoring is an easy setup, can auto-discover the PeopleSoft instance and instantly start monitoring all critical services, and servers for real-time information on the Cloud Portal. Notifications and alerts are standard and can be configured to meet your online needs.
Upgrade and Patch/Fix
The first thing customers must do when applying an upgrade or update it to download a new image from Oracle Support (for V9.2). This has some pre-reqs like infrastructure provisioning (physical or virtual), scheduling (resource availability) and understanding the installation procedure for that update image. Oracle Cloud eliminate these a makes it simple:
On the Oracle Cloud Marketplace, customers can choose the latest PUM image available as a full instance (app/web/DB/scheduler) and use it to launch a new PeopleSoft demo instance.

Bonus: While the Marketplace only offers the latest PUM, customers can download any number of them as they become available, save it to their private images list, and only pay for it when they deploy an instance to use.
While you may be deliberating about whether to migrate your PeopleSoft applications to Oracle Cloud. Oracle Public Cloud offers a compelling set of reasons that changes the question from whether to implement a cloud solution to when and how. Get started today with a FREE trial of Oracle Cloud and contact Astute to discuss the added benefits of a Managed Cloud Service solution.