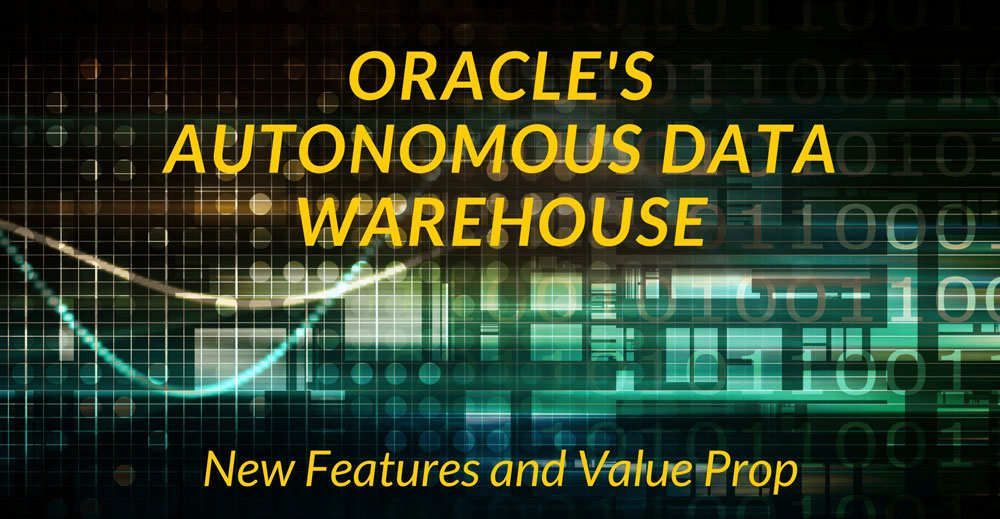 Oracle's Autonomous Data Warehouse
The 'Cloud' or 'Cloud computing' is one of the hottest buzzwords in technology. It appears more than 48 million times on the Internet search every day. Cloud computing and software-as-a-service (SaaS) have been around for quite some time now and we have been using it via multiple applications both at work and personally via mobile apps.
But when it comes to the data warehouse on a cloud, the concept or the idea has recently emerged as an alternative to conventional or traditional, on-premises data warehousing and Cloud-based data warehouse.
The market is inundated with Data Warehouse solutions, be it on-premises or cloud. Let's take a look at the most common use cases for using a data warehouse.
The need to centrally store all business-critical data
Single source for analyzing web, mobile, CRM, and other applications
Customers looking for tools that can dive deeper than traditional analytics tools by querying raw data with SQL
Providing multiple people access to the same data set simultaneously
Why Oracle Autonomous Data Warehouse (ADW)?
Oracle ADW is highly automated. It's easy to install and use. Since ADW is hosted on Oracle Cloud most of the headache is being taken by Oracle like installation, bringing up the environment, patching the environment, and networking side of it, protecting and encrypting the data. ideally, there is no involvement of network or database admin at any level.
Oracle ADW can handle complex SQL queries. As a user of ADW, you are only focused on your data sets, business use cases that the data sets can be applied to, and extracting the useful information and using it for future use. In summary, you'll save a lot of time using it for strategizing and delivering solutions rather than planning and maintaining the foundation.
Since everything is hosted on Oracle Cloud, backing up and restoring is only one click away. Oracle provides an option to set automatic and manual backup. Automatic scaling, auto-tuning, auto-patching are some other impressive features. It's safe to say most if not all manual tasks have been removed by Oracle ADW.
Autonomous Data Warehouse is auto secure. It autonomously encrypts data at rest and in motion (including backups and network connections), protects regulated data, applies all security patches, enables auditing, and performs threat detection. For additional safety of sensitive data discovery, sensitive data protection, and activity auditing customers can also use Data Safe.
Autonomous Data Warehouse offers three deployment choices:
Shared infrastructure (public cloud)
Dedicated infrastructure (public cloud)
Cloud@Customer infrastructure (customer's data center)
In today's overly connected world, data warehouses are vital, because as data becomes more prevalent, its analysis becomes more and more crucial. The introduction of cloud and its integration with data warehousing has changed the dimensions of data governance, storage, and data management. Now, vendors like Oracle AWD are offering robust data warehousing solutions that feature enhanced data quality, data security, fully autonomous, and business intelligence analytics to streamline a company's decision-making process.
What's New with Autonomous Data Warehouse on Shared Exadata Infrastructure?
Oracle's Autonomous Database now supports Oracle Application Express Release 20.1. Now your Autonomous DB 18c can support APEX 20.1. Previously for it to work customers were forced to use Oracle DB 19c. APEX 20.1 is automatically supported and if you are on Oracle DB 18c a simple upgrade to 19c is all that is needed.
Autonomous DB now provides the autonomous data guard feature to enable a standby database to provide data protection and disaster recovery for ADB instances.
You can create and alter user profiles in the Autonomous Database.
Autonomous Database automatically picks up updated time zone files depending on the state of the instance stopped/available.
Autonomous Database network access changes from a public to a private endpoint, or from a private to a public endpoint are only supported with database versions Oracle Database 19c onwards.
You can create database links from an Autonomous Database to an Oracle Database Gateway to access Non-Oracle databases.
If your database version is Oracle Database 19c or higher, you can rename your Autonomous Database.
What's New with Oracle Autonomous Database on Dedicated Exadata Infrastructure?
You can now manage the actual timing of scheduled maintenance events on Autonomous Exadata Infrastructure and Autonomous Container Database resources, even to the point of performing the activity immediately or of skipping it altogether.
You can now use Oracle Data Safe to identify and protect sensitive and regulated data in dedicated Autonomous Databases. Oracle Data Safe helps you understand the sensitivity of your data, evaluate risks to data, mask sensitive data, implement and monitor security controls, assess user security, monitor user activity, and address data security compliance requirements.
Succeeding on Oracle Cloud with Astute
Oracle has made it so easy to use and manage your infrastructure on ADW. Now anyone can work on ADW rather than worrying about any technical knowledge. No dependency on Database or a network team for any sort of work. If you are looking for guidance on getting started, the data warehouse experts at Astute Business Solutions can help. Here's how we can help you successfully get started on ADW. By using DBMS_CLOUD package, Data Pump, SQL Loader, Oracle GoldenGate we can help you create and execute a migration strategy that's best suited for you and your business.
If you have an urgent need we can help with that also. We offer quick-start solutions to get you quickly, efficiently, and seamlessly back on track.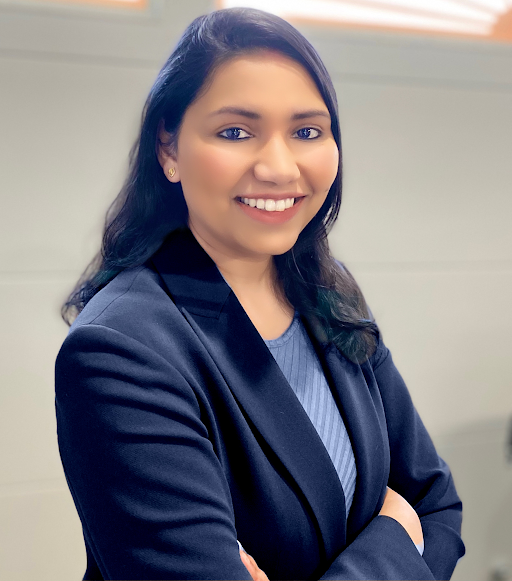 Kanchan is a seasoned PeopleSoft professional with over 10 years of experience in various industries, including telecommunications, financial services, education, and high technology. Throughout her career, she has worked on a variety of projects, including Implementations, Upgrades, Automation, and Application Support projects. Kanchan has focused her expertise on helping PeopleSoft customers migrate to Oracle Cloud Infrastructure with IaaS and PaaS services. She has also been instrumental in modernizing PeopleSoft using Kibana, Fluid, and PeopleSoft Cloud Manager.