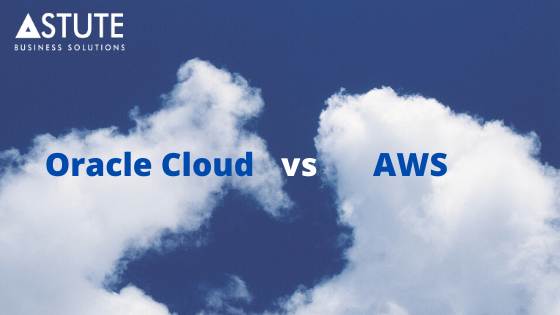 OCI vs AWS - Cloud Advisory for A Comparison in Clouds
Technological advancements have led to the massive growth and expansion of cloud computing applications and resources that require little to no supervision or management. Its ever-expanding popularity has been sought after for essential business support functions in all industries. Purchasing costly servers along with installations, licenses, and hardware has been replaced with an innovative technology that is based on cloud computing. With the growth of big data being computed on the cloud and the storage of data in the cloud, investments in cloud computing continue to rise.
Migrating to the cloud can be challenging, especially if you are trying to do it on your own. Choosing the right cloud platform is as equally as important as having an experienced IT staff to perform the migration. Both can be critical factors in determining the outcome of your business objectives and company goals. To help off-set in house resources and reduce risks, Cloud Infrastructure Providers like Oracle and Amazon are fast runners in the space.
Industry leaders, OCI (Oracle Cloud Infrastructure) and AWS (Amazon Web Services)
How do they compare?
Oracle is a company that has been long known for its expertise in software and data processing. Now, it has taken on the role of the disruptive newcomer in the world of cloud computing. In doing so, Oracle has created a name for themselves with a strong and stable cloud infrastructure, that is truly a enterprise-class Gen2 Cloud. Their IaaS, Infrastructure as a Service, allows users to build and run applications and services on the platform as needed. They also have other cloud services such as:
PaaS (Platform as a Service) - Oracle Cloud Infrastructure as a Service
SaaS (Software as a Service) - Oracle Cloud Applications
DaaS (Data as a Service) - Oracle Data Cloud
All Oracle Cloud Services can be tailored and customized to fit the unique needs of each and every customer.
Oracle Cloud Infrastructure (OCI) is focused on the outcome of your company and IT infrastructure. With the company in mind, OCI delivers enhanced performance for accelerated business growth. It has been proven that the performance of OCI exceeds AWS and allows for automated scalability based on the needs of the company.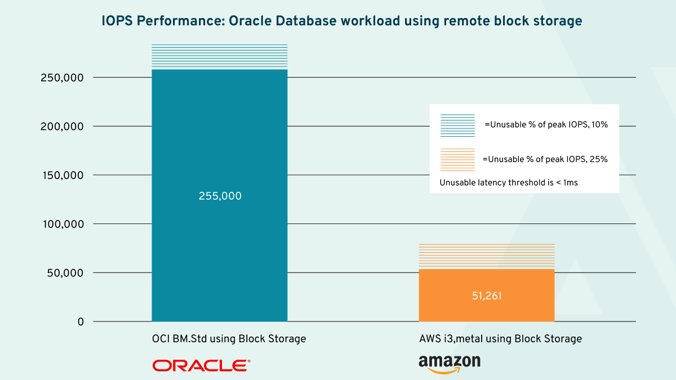 A pioneer in Cloud Services, Amazon Web Services (AWS) offers a wide range of IaaS and PaaS services, including services for Oracle database. Like Oracle, AWS has Cloud Infrastructure as a Service (IaaS), Data as a Service (DaaS), and Platform as a Service (PaaS), however, AWS does not offer Software as a Service (SaaS) which is fast becoming the norm for business applications worldwide. Both Oracle Cloud and AWS offers users networking, security solutions, remote computing, storage and email.
With both Cloud Services, you get to try before you buy. Why would anyone pay more for fewer services and quality? When looking to upgrade your business to the Cloud the number of differences will definitely have an effect on the outcome of your cloud experience.
Some AWS Services are offered at a higher cost to users when compared to OCI. While the two may be comparable in offerings for IaaS and PaaS, Oracle offers a stringent SLA with penalties for all of its services, including SLA for availability, manageability and performance. When it comes to critical services like Compute, Database, Storage and Networking, AWS services typically cost more than comparable OCI services. For Oracle customers, the choices for Database services on OCI are much more than AWS. For instance, Exadata Cloud Service is only available on OCI and not on AWS. Cloud migration and cloud management tools tailored for Oracle applications such as PeopleSoft, eBusiness Suite, and JD Edwards are exclusively available on OCI.
Oracle has a new service called Cloud Free Tier which allows you to sign up for an Oracle Cloud account that provides a number of Always Free services and a trial worth $300 USD free credits to use on all eligible Oracle Cloud Infrastructure services for up to 30 days. The Always Free services are available for an unlimited period of time. The Free Trial services may be used until free credits are consumed or the 30 days has expired, whichever comes first.
The following Oracle Cloud Services are currently Always Free:
Autonomous Data Warehouse
Autonomous Transaction Processing
Compute
Block Volume
Object Storage
Archive Storage
Load Balancing
Monitoring
Notifications
Outbound Data Transfer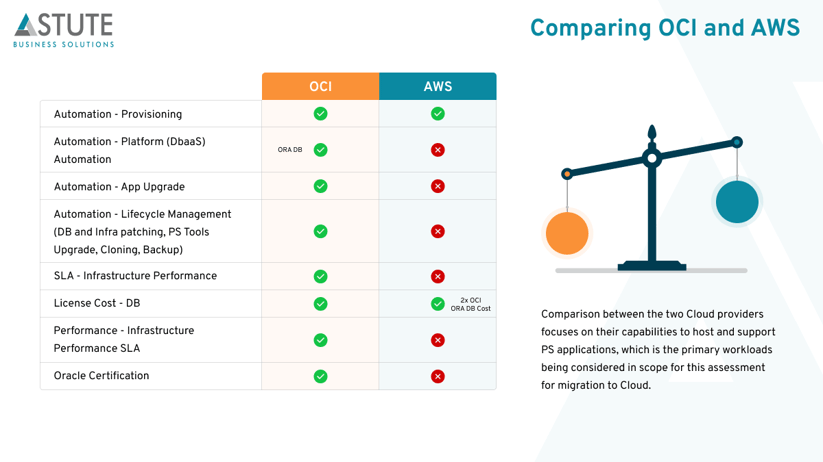 When looking at a comparison of OCI and AWS within the scope of PeopleSoft, Ellucian Banner and other Oracle ERP applications, OCI stands out as the top cloud infrastructure for automation, life-cycle management and application upgrades. When trusting a company with your cloud migration and managed services, you want to make sure that you will be receiving the best. With the speed of deployment, PeopleSoft and Ellucian Banner upgrade automation, operation cost reduction, higher performance and increased security, OCI has you covered and is considered a top contender in Cloud Providers.
Are you currently exploring Cloud Providers and want to know more about the automation, performance, and benefits of OCI? Contact us at info@beastute.com to schedule a free assessment.
Arvind Rajan is Co-Founder and CEO of Astute Business Solutions. He is leading the expansion of Astute services to include Cloud Managed Services, Disaster Recovery on Cloud, and Integration and Process Automation using Platform Cloud Services.
Tags
Related Posts
Subscribe Our Newsletter
Gain access to exclusive insights, technical know-how and crucial knowledge from Astute experts.