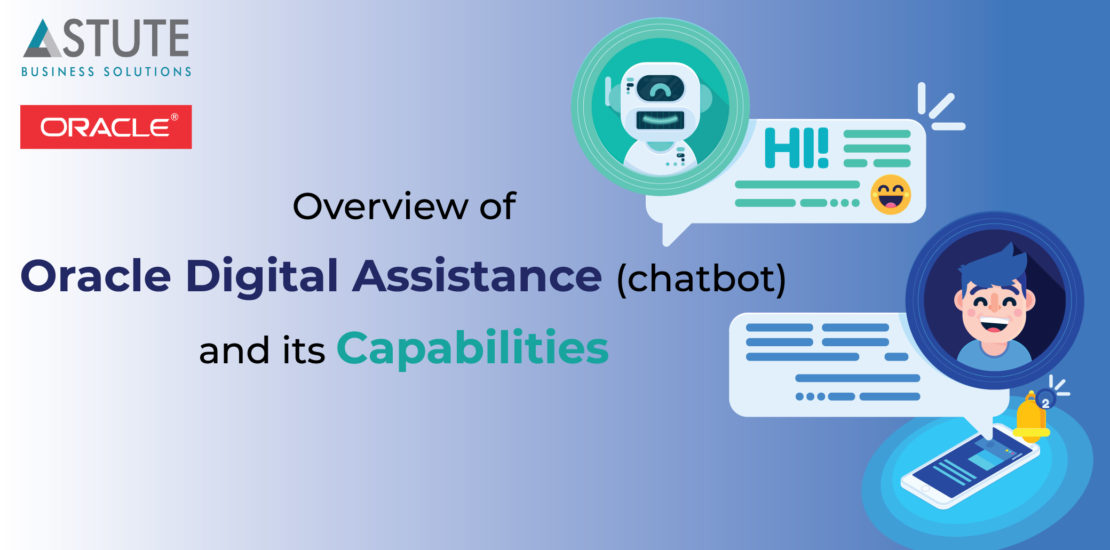 What is an Oracle Digital Assistant (ChatBot) and What Does It Do?
With Chatbots being the new buzzword in the technology-driven industry, big players are now building tools that companies can use to create intelligent, automated conversation partners.
What is an Oracle Chatbot?
Oracle's Digital Assistant has leveraged the power of Artificial Intelligence (AI) and Natural Language Processing to create cutting-edge chatbots – the only one of its kind in the plethora of 'automated engagements with conversational interfaces'. Chatbots are aimed at changing the connectivity paradigm for businesses by building bots that allow seamless connections with enterprise software.
Oracle chatbot is essentially an AI-powered assistant built to boost the business efficiency of any enterprise with cutting-edge technology and tools that seamlessly connect to your backend applications.
Typically, digital assistants are virtual devices that help users accomplish tasks through NLP without having to seek assistance through numerous apps and websites.
Comprised of specialized skills, Oracle's Digital Assistant is designed to validate user input, and subsequently route conversations using the relevant skills as a medium. The Oracle chatbot is a platform that has revolutionized digital assistants by enabling enterprises to use AI-driven interfaces for creating and deploying digital assistants for their users.
Add these chatbots or skills to digital assistants to execute tasks through a combination of text messages and basic UI elements or deploy them to multiple channels.
Key Benefits of Chatbot Integration with Oracle Systems
Oracle's AI-powered intelligent chatbot integration with Oracle's systems delivers the following tremendous key benefits:
Engage with Customers in Real-Time
Unlike instant messaging platforms that require human to human interaction, a chatbot is a simple to use application that's specifically designed to engage in a real-time conversation with users, all online.
Studies have shown that companies that utilize the chatbot technology have customers that are more satisfied when they are able to find what they are looking for and receive the answers they need in a convenient, timely, and efficient manner.
Customize Your Oracle ChatBot
Customized to the environment and audience, chatbot interactions have predefined conditions that are unique to the company such as information, registrations, bookings, payments, forms, etc.
Easy and Convenient to Use
Oracle Cloud Platform makes it very convenient to develop and train intelligent chatbots without any professional AI specialists. These developed bots can be deployed on voice and text messaging channels or websites.
Key Business Benefits of ChatBot Technology
The following features can help you make the business case for integrating Oracle Digital Assistant.
Efficient Customer Relationship Management applications ensure collaboration of the selling channels with corporate goals at a global level.
Service Management applications that boost information-driven customer service by making consistent and accurate information available.
Financial Management applications integrated with a chatbot are equipped to help enterprises efficiently manage core business processes such as risk and compliance, credit-to-cash, treasury management, and financial control and reporting in real-time
Human Capital Management applications integrated with a chatbot helps your HR department maximize its productivity and leverage automation of manual processes such as bot-driven on-boarding of new employees.
Project Portfolio Management applications provide rapid access to project details and support the complete lifecycle of projects and portfolios with a single, accurate view of related activities.
Advanced Procurement applications integrated with chatbots largely help organizations cut supply management-related costs, and enables core decision-making with quick access to information on purchasing, sourcing, supplier lifecycle management, procurement contracts, and so on.
Supply Chain Management and Value Chain Execution group of applications integrated with chatbots offer a gamut of logistics capabilities that automate the entire supply chain processes including the design, planning and procurement, manufacturing and fulfillment, leveraging information-driven value chains as a solution.
Oracle Intelligent Bots
The Oracle Intelligent bots is an integrated feature of Oracle Mobile Cloud Service. Using this service we can develop bots that can be integrated to enterprise systems to fulfil required tasks. By using Artificial Intelligence (AI) and Natural Language Processing (NLP) powered by neural networks and machine learning, Oracle Intelligent Bots can detect the user's intent and respond with relevant information.
The intelligent bots which are created must read, understand and process human language. The tough task is to convert the human readable language into something the Chatbot can understand. There comes the power of machine learning and NLP.
NLP provides a system for the bots to read and understand human conversations. Across all industries such as retail, healthcare, travel, finance, insurance and many other industries, chatbots have become the front end guard of automation.
With minimal coding skills, Oracle Intelligent bots offer a solution to build multi-channel bots by leveraging the deep integration with enterprise systems through Oracle Mobile Cloud Service.
A game-changer, Oracle's intelligent bots include an easy to use graphical user interface (GUI) that makes building a customized chatbot solution that modernizes your support technology and takes your PeopleSoft system to a whole new level.
How does an Oracle Chatbot Deliver?
Oracle delivers personalized AI-driven Digital Assistants with chatbots that largely transform and simplify user engagement, boost efficiency, and enhance productivity. With the Digital Assistant, you leverage one comprehensive digital assistant that can be trained to support multiple-application domain skills from HR, ERP, CRM, and CX.
Usurping the power of AI, Oracle Digital Assistant proactively recognizes context, derives intent, and identifies and learns user patterns and behavior to automate routine tasks such as expense approvals and meeting rescheduled.
Designed and built on the Oracle Cloud Infrastructure, Oracle Digital Assistant provides simple, single skilled, linear responses that have transformed standard chatbots available today, and offer digital assistance that can truly span the enterprise.
Businesses can harness their automation and intelligent bot development, where they are mapping how to increase engagement, drive efficiency, and lower costs.
Chatbots dealing with 'low-fidelity' interactions from customers essentially frees up call center resources to deal with inquiries that require that added human intervention.
Oracle Chatbots for PeopleSoft ERP
For PeopleSoft customers, Oracle has seamlessly integrated ChatBots in the PeopleSoft ERP. You can now implement four different options of digital assistants with varying functions.
Absence bots allows employees to request, view, cancel and manage absences in a convenient and conversational manner. Employees are able to ask the bot basic questions and access resources to complete self service transactions.
PeopleSoft customers can also implement an Employee Directory Assistant Chatbot that enables their employees to search and obtain contact information from the company directory. The Requisition Inquiry Skill chatbot allows employees to manage and view their requisitions in a conversational manner that is easier than using the Manage Requisitions component.
Lastly, the Expense Inquiry bot provides an efficient way for employees to access and manage expense reports and corresponding data.
Getting Started with Oracle Digital Assistant
Implementing an Oracle Digital Assistant into your Oracle Cloud ERP or other application is designed for ease of use and efficiency. You have the option of choosing from pre-built ChatBots to accelerate the integration process or create a custom-built bot tailored to your specific business needs and objectives.
To get started with your Oracle ChatBot, work with an experienced Oracle Managed Service Provider (MSP) like Astute Business Solutions. We've developed dozens of bots for our clients that have helped them increase productivity, gain valuable data, and enhance their overall performance and customer experience.