Overview:
PeopleSoft Test Framework is a great feature offered since PeopleTools 8.51 which automates PeopleSoft Application by reducing testing efforts. There have been significant enhancements and features which are being added in every update, helping customers to implement PTF much easier. PTF works as a record and playback tool which mimics the actions of users and tests can be stored within the framework. These tests can be used during application upgrades or patches to verify if the application is behaving as expected. PeopleSoft Test Framework is still the preferred way over manual test procedures. This blog will give you an overview of new features that are released in PeopleTools 8.58.
PeopleTools 8.58 New and Enhanced Features
Feature Categories
Improving Test Maintenance Report Creation

Step Information

Displaying Variables in Message Logs

Inserting Timestamp

Chrome Browser Version Compatibility
Improving Test Maintenance Report Creation
With the enhancement of PeopleTools 8.58 now test maintenance reports can be generated using the process scheduler. Here is how to do it.
Test Maintenance report is used when a PeopleSoft environment is upgraded or enhanced. This upgrade will impact the menus, records, component pages and fields. All of these impacted items are being used in PTF hence the test scripts might fail in the upgraded instance due to new changes. So how do we identify the changes in the test scripts? Here " Test Maintenance Report" comes into the picture.
When you create a test maintenance report, the PSPTANALYSIS Application Engine program of the analysis step and the PSPTMAINTRPT Application Engine program of the report generation step is launched in the Process Scheduler. This will eliminate the page timeout issue.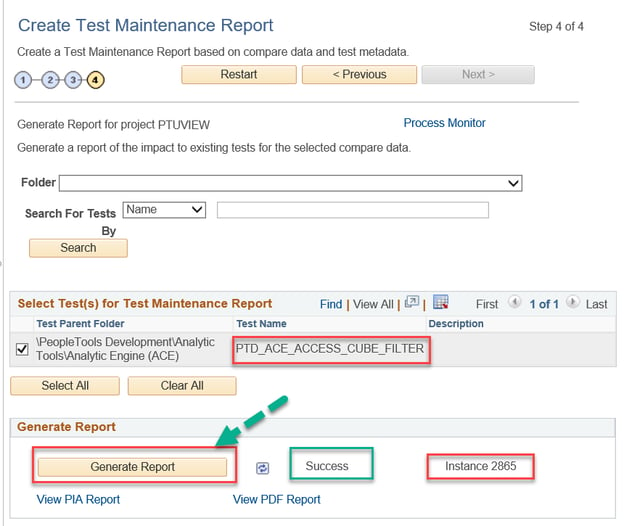 Step Information
Step Information is used to identify the impact on existing test steps and to generate test maintenance reports. In PeopleTools 8.57, Update step info will occur during execution, if inaccurate. Where you need to Select the Overwrite Existing Step Info checkbox in the Execution Options—Advanced tab to enable the feature. In this 8.58 tools release, step information is updated only for successful steps.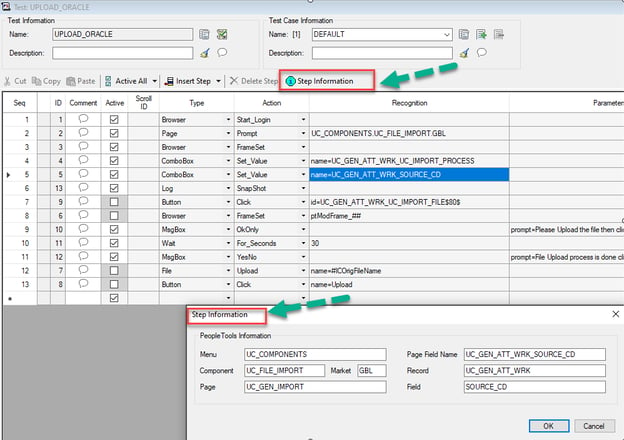 Displaying Variables in Message Logs
Variables will help you to store a value in one step and use it in the next step. Variables are extremely useful when dealing with the unique values which are generated only when a test is executed. To implement Variables, it should be always prefixed with (&).
With PeopleTools 8.58, now we can log variables as part of the message log. Before now, there was no such capability to use variables as message log instead variable values are being used. To enable this advanced feature, prefix an additional ampersand (&) to the variable in the Recognition field of the selected test step.
Inserting Timestamp
The PTF comments section is basically used to store the information about the script, such as script developer name, pre-requisite information and to store the images. Now an added enhancement is introduced where you can insert a timestamp which will be used for any test audit purpose.
In order to enable this feature, you will need to click on the comments icon and select the time stamp icon.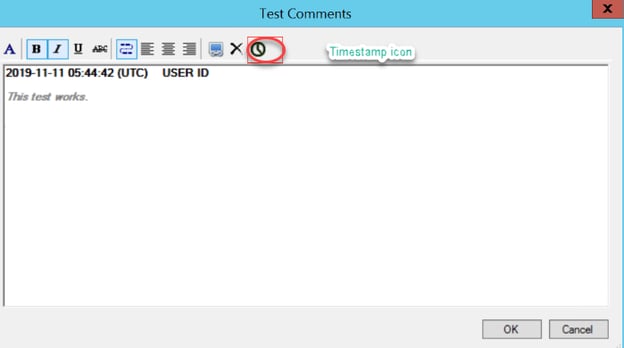 Chrome Browser Version Compatibility
PTF test playback is supported on multiple browsers. However, for PTF test playback, an additional Selenium driver is required and the Selenium driver limits which browser version is supported by each PeopleTools patch. The drawback here is Chrome version changes very often and each version requires a new driver. With tools 8.58, you can now playback PTF tests in the latest version of Chrome by downloading a compatible driver and copying it into the PTF directory. This feature is such a cool one and will help testers to speed up the execution with Chrome browser.
Conclusion
PeopleSoft Test Framework automates different end to end processes within PeopleSoft Application such as functional testing. PTF automation helps customers to execute more scripts within a short time span. With every tool release, valuable enhancements are being carried out which will help customers to leverage PTF and reduce their testing efforts.
Additionally, there have been significant changes that have been incorporated into PTF since 8.57 such as verifying distribution status, folder permissions, execution options, creation process, and more. PTF improvements are increasing in every update to help customers to leverage the automation process.
Astute Business Solutions has implemented several successful PTF implementations across many domains.
Feel free to check out our blog on PeopleSoft Test Framework 8.57 features at https://www.beastute.com/blog/3-new-features-of-peoplesoft-test-framework-8-57
Ready to see a demo? Schedule a meeting with an Astute team member.
.